Boxie Cat Air Lightweight Extra Strength Litter - 11.5lb
Stop stubborn litter odors with Boxiecat Air Lightweight Extra Strength Unscented Clumping Cat Litter. This lightweight litter made with barley is free from heavy clay and dust, making it easy to pick up and pour. Non-stick clumps work quickly to lock away moisture and help keep your feline's facilities fresh. Plus, natural probiotics gently eliminate odors without masking them. This extra strength formula is great for high-protein diets that can add ammonia to your kitty's wee.
Key Benefits
This lightweight barley litter is made without heavy clay, making it easy to lift and pour.
Natural probiotics gently eliminate odors without masking them.
Non-stick clumps are easy to scoop and help reduce unwanted odors caused by bacteria and ammonia.
Plant-based formula is biodegradable and proudly made in the USA.
Great for protein-rich diets.
Precautions
Always wash your hands thoroughly after handling used cat litter, as cat feces may contain Toxoplasma gondii—a parasite that can cause toxoplasmosis. Pregnant or nursing women, as well as children and anyone with a weakened immune system, should avoid handling used cat litter. Always handle litter in a ventilated area to avoid inhalation. Keep contents and packaging out of reach of children and pets. Seek medical help in case of accidental ingestion.
View full details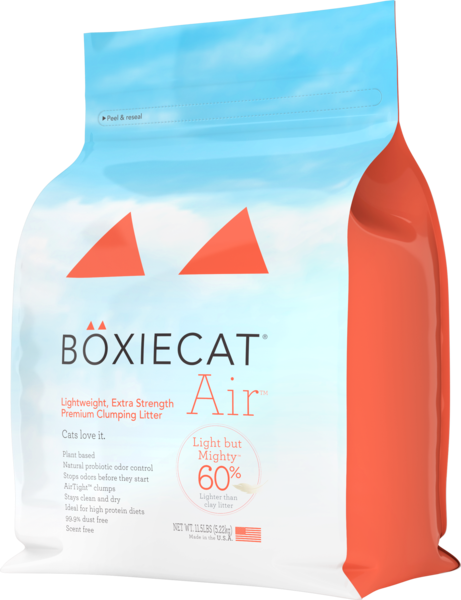 Boxie Cat Air Lightweight Extra Strength Litter - 11.5lb