Mad Cat Purrfect Pineapple Cat Toy
Your kitty deserves a tropical stay-cation. With the Purrfect Pineapple Catnip & Silverline cat toy from Mad Cat, you can introduce your favorite feline to a plush that's sure to curl her whiskers. Filled with an exclusive blend of catnip and silvervine, this stuffie is potent, pure, playful and pesticide-free. Even kitties who aren't interested in catnip may be drawn to silvervine— a different plant that can create a similar buzz! Ideal for batting, kicking, cuddling and throwing, this playtime partner is made of high-quality plush, irresistibly adorable embroidery and ropes.
Key Benefits
Designed to put a smile on your face, just like pina coladas and getting caught in the rain.
The unique blend of catnip and silvervine tempts kitties to play and cuddle.
Silvervine—a species of kiwifruit—is completely non-toxic, all-natural, and may entice cats who aren't affected by catnip.
High-quality plush, embroidery and ropes for felines who like a variety of textures.
Destined to star alongside your kitty on social media, greeting cards and personal photos.
View full details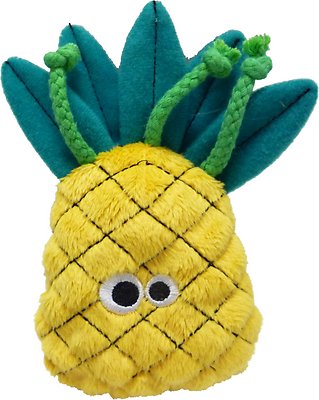 Mad Cat Purrfect Pineapple Cat Toy