ProDen Dental PlaqueOff Powder for Cats 40g
ProDen PlaqueOff Powder Cat Supplement supports normal healthy teeth, gums and breath odor with 100% specially selected North Atlantic seaweed. Simply add it to your feline friend's dry or wet food once a day. For cats who weight under 15 pounds, the 60 gram bottle lasts for 6 months to a year. For larger paw-tners over 50 pounds, the average supply is 2 months.
Key Benefits
Powder supplement is an easy addition to your pet's oral hygiene routine. Sprinkle or mix with dry or wet food.
Systematically prevents plaque from sticking to teeth and softens existing tartar deposits.
Recommended by vets for bad breath, tartar and plaque control.
Made with a specially selected algae harvested from the North Atlantic coast with clinically proven benefits.
100% natural and free from additives, artificial preservatives, gluten and added sugar.
Precautions
Not Recommended for pets being treated for Hyperthyroidism.
*MEASURING SCOOP INCLUDED IN THE BOX

PRODEN PLAQUEOFF®
 

POWDER SHOULD BE USED ONCE DAILY AND CAN BE ADDED TO WET AND DRY FOOD. START WITH A SMALLER AMOUNT TO GET YOUR PET ACCUSTOMED TO THE TASTE, THEN INCREASE TO THE RECOMMENDED AMOUNTS. SPRINKLE THE PRODUCT ON TOP OF THE FOOD OR MIX IT WITH THE DRY OR WET FOOD ONCE A DAY. HOW LONG IT TAKES BEFORE YOU NOTICE AN EFFECT MAY VARY FOR EACH INDIVIDUAL. IF THE DESIRED EFFECT IS NOT ACHIEVED AFTER 2 MONTHS YOU CAN INCREASE THE AMOUNT. AIM TO RETURN TO THE RECOMMENDED AMOUNT WHEN THE EFFECT HAS BEEN ATTAINED
View full details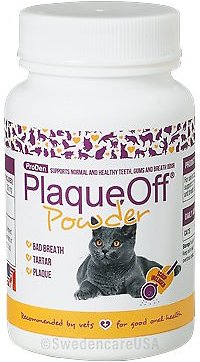 ProDen Dental PlaqueOff Powder for Cats 40g