Safe Paw 22lb Flexicube LOCAL PICKUP ONLY
PEOPLE & PET SAFE - Imagine an ice melt you can put down and never worry about. It won't harm animals or children, and it won't damage your property. That's Safe Paw. Unlike anything else on the market, Safe Paw can change how winter affects our planet. Your grass, plants, and foliage are safe! Safe on eyes, skin and paws. It's safe around and if ingested. Best of all: 100% salt & chloride free.

MELT AT LOW TEMPERATURES - Guaranteed to melt at low temperatures (-2°F), it's non-toxic and biodegradable

VETERINARIAN RECOMMENDED FORMULA - Unlike other Pet Safe Ice Melts, Safe Paw's patented formula is guaranteed to not hurt people, pets, and the planet.

NON-CORROSIVE & LONG SHELF LIFE - It's non corrosive and non-conductive. No damage to delicate machinery or worry about short circuits. Get instant melting without worrying about property damage. Concentrated formula assures long-term, maximum effectiveness from season to season.

EXCELLENT SPREAD RATE - Allows a typical back yard to be treated to make a safe winter play land for pets and people. Can be used for a long time on small and large areas.
View full details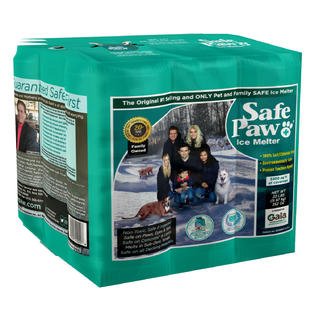 Safe Paw 22lb Flexicube LOCAL PICKUP ONLY