Sorry The Dog Farted Soy Wax Candle
Because we know the truth about living with dogs.
Here's a product for dog lovers. A super fancy with a candle that will extinguish the aroma of your dog's flatulence.
With scents of orange, goji berry, and mango to fight the stench, doggy fart clouds don't stand a chance!
View full details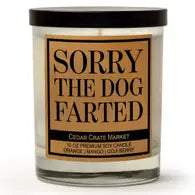 Sorry The Dog Farted Soy Wax Candle