True Blue Natural Balance Conditioning Dog Shampoo
The ultimate "2-in-1" shampoo and conditioner, for a coat that's beautifully soft to the touch.

This shampoo was carefully designed to clean without stripping the beneficial natural oils in your pet's coat. So you can bathe your pet as often as you like without worrying about drying out the skin, itching, or flaking!
First, we use grapefruit as a key ingredient in many of our products for its natural cleansing benefits. People also really love the scent, which is perfectly balanced to be pleasant but not overpowering. Learn more about Why We Love Grapefruit.
Chamomile also provides many healthy pet benefits, as a mild astringent to provide additional cleansing power. But it also provides powerful antioxidants to promote healthy skin, heal minor infections, and soothe itchiness - especially for dogs that spend a lot of time outdoors and get exposed to environmental irritants. Learn more about The Incredible Healing Power of Chamomile. 
An all-natural botanical blend with green tea- an all-natural antioxidant
Extra nutrients -vitamins A, C, and E
Chamomile gives your pet a clean, fresh-smelling coat

Tear-free formula with no detergents, parabens, phosphates, or alcohol
Made in the USA
Water, Natural Cleansers (derived from Coconuts and Sugar), Natural Fragrance (Essential Oil Blend), Citric Acid, Natural Preservatives, Glycerin, Organic Green Tea, Organic Chamomile, Phytic Acid, Vitamin E.
Apply to wet fur and gently rub in and rinse
View full details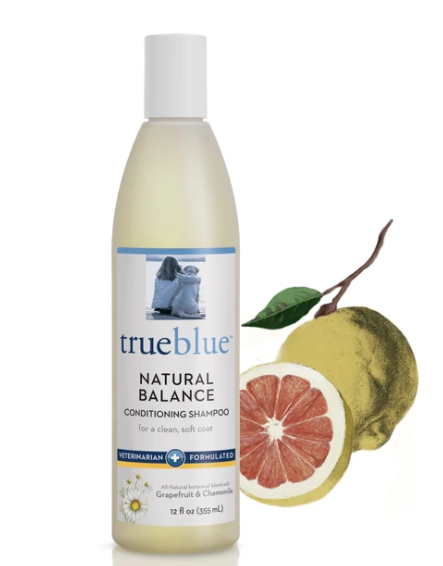 True Blue Natural Balance Conditioning Dog Shampoo