True Blue Super Easy Ear Wipes
Ear infections are one of the leading causes of vet visits—yet they're mostly preventable with proper care. These ear wipes are simple to use and safely clean away dirt, wax, and debris that can lead to infections. Clean ears are healthy ears!
Pre-moistened wipes that help clean dirt and wax from ears
Lemon cleans while promoting healthy blood vessels
Marigold softens and soothes the delicate skin in your pet's ears
Easy way to help prevent ear infections
Made in the USA
Water, Witch Hazel, Isopropyl Alcohol, Glycerin, Boric Acid, Grape Seed Extract, Peppermint Leaf Extract, Chamomile, Green Tea, Marigold, Organic Aloe Vera, Apple Fruit Extract, Sugar Cane, Lemon Fruit Extract, Natural Preservatives.
Gently wipe ears to remove dirt and debris. Do not reach into ear canal.
View full details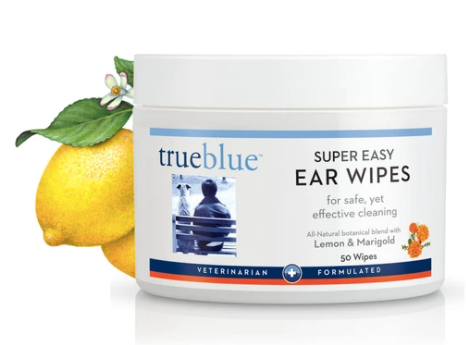 True Blue Super Easy Ear Wipes