Velvet Hippo Sleep Chew Travel Bed
The Hex Cushion is a tough and sturdy dog bed.  Made from rugged canvas that has a tight weave it can withstand tough puppy scratching. 
The canvas has been dyed, stone-washed and tumbled to a subtly faded shade of dark grey.
All interior bolsters are filled with recycled poly-fill. They are easily removable from zippers, so you can wash the outer cover and bolsters separately.  
Outer cover: 85% cotton, 15% polyester.
Interior bolsters: 100% cotton outer stuffed with recycled poly-fill.
Suitable for pups up to 20 lbs.  22.5" Outer diameter. 6" Height.
View full details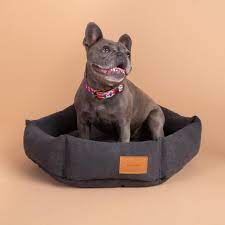 Velvet Hippo Sleep Chew Travel Bed